Virgin cruises are an altogether different experience from the traditional cruise format. These are adult-only cruises with funky shows and unusual restaurants. Here we take you by the hand through a week on the Valiant Lady during an Irresistible Med cruise.
Day 1 in Valiant lady, enjoying RockStar life
A crack-of-dawn flight to Barcelona and we're on board cool-looking silver/grey and red Valiant Lady for lunch. I'm checked in as a RockStar, a lofty category of suite guest that variously includes turntable and LPs and even an electric guitar.
I'm sampling the suite life from a more conventional room, including a hammock swing chair on the balcony and a kingsize TV operated from the same iPad-like device that deals with perennial issues such as switching on the lights and drawing the curtains.
Dinner is at Gumbae, a Korean-style tabletop barbecue restaurant where shrimp and meat sizzle wildly. That's barely gone down before we're ushered into the hangar-like Red Room, a flamboyant dance team mingling with guests creating a semi-spontaneous everyone-involved performance.
Day 2 – Toulon, drag artist and swanky rooftop bar
The Irresistible Med itinerary means that by dawn, we're in Toulon, the spirit of southern France without the bling of the Riviera.
I relax, knowing that the free Growth and Guided Meditation is too early for me to contemplate and head for breakfast in the sun at the Galley, Virgin's take on the perennial buffet with a host of serving stations (and servers). It's possible to start the day with a full English, delicate fruit and muesli concoctions, udon noodles, tacos or open sandwiches piled with smoked salmon. Morning is spent wandering through the town.
The afternoon involves an idyllic wander down to the 16th-century Royal Tower fortress and the narrow path that steps up and down over the rocky Pointe de Pipady headland and half a dozen tiny beaches.
Come 5pm, I'm at Richard's Rooftop, a swanky bar with huge circular white beds on which beautiful folk, largely, recline and sip the Moet that's free for an hour each day for RockStar guests.
Unlike most cruise ships where speciality restaurants incur a charge, all Virgin's restaurants are free and themed. Tonight it's Extra Virgin, Italian with a wealth of sunny starters followed by main courses that are a world away from just pasta.
Another of Virgin's big differences is the entertainment. Tonight it's the Diva, a leggy drag artist who sings, dances, and berates the audience with gay abandon, somewhere between a Parisian burlesque and a working men's club.
After that, it's different again, with American bluesman Slam Allen's trio playing in On The Rocks.
Day 3 Marina di Carrara in Italy, Vaudevillian sex therapist, and Razzle Dazzle
Up at dawn, and we're just about to dock in Italy, a small port, Marina di Carrara, south of Genoa, visited by just a few cruise ships. The dockside is filled with shipping containers and fork lift trucks but the other side of the fence a beach stretches into the distance while the Apuan Alps, the white of their rich marble looking like snow, rise up behind the lushness of the neatly planted pines.
The Open-heart Slow Flow Yoga isn't as early as the meditation but would still be a pain so I head for breakfast before my excursion to a farmhouse for a cooking lesson. We see Pisa's tower leaning into the distant heat haze before arriving at an idyllic spot, some of the buildings – notably the former stables with vaulted brick ceilings – dating back to the 13th century. We don't learn anything we don't already know but it's fun helping chop the sun-ripened tomatoes for our pasta lunch, which we take with jolly chums on the veranda gazing over the fields. There's a ready supply of local wine, dessert wine and limoncello and we have to be chivvied back to the bus.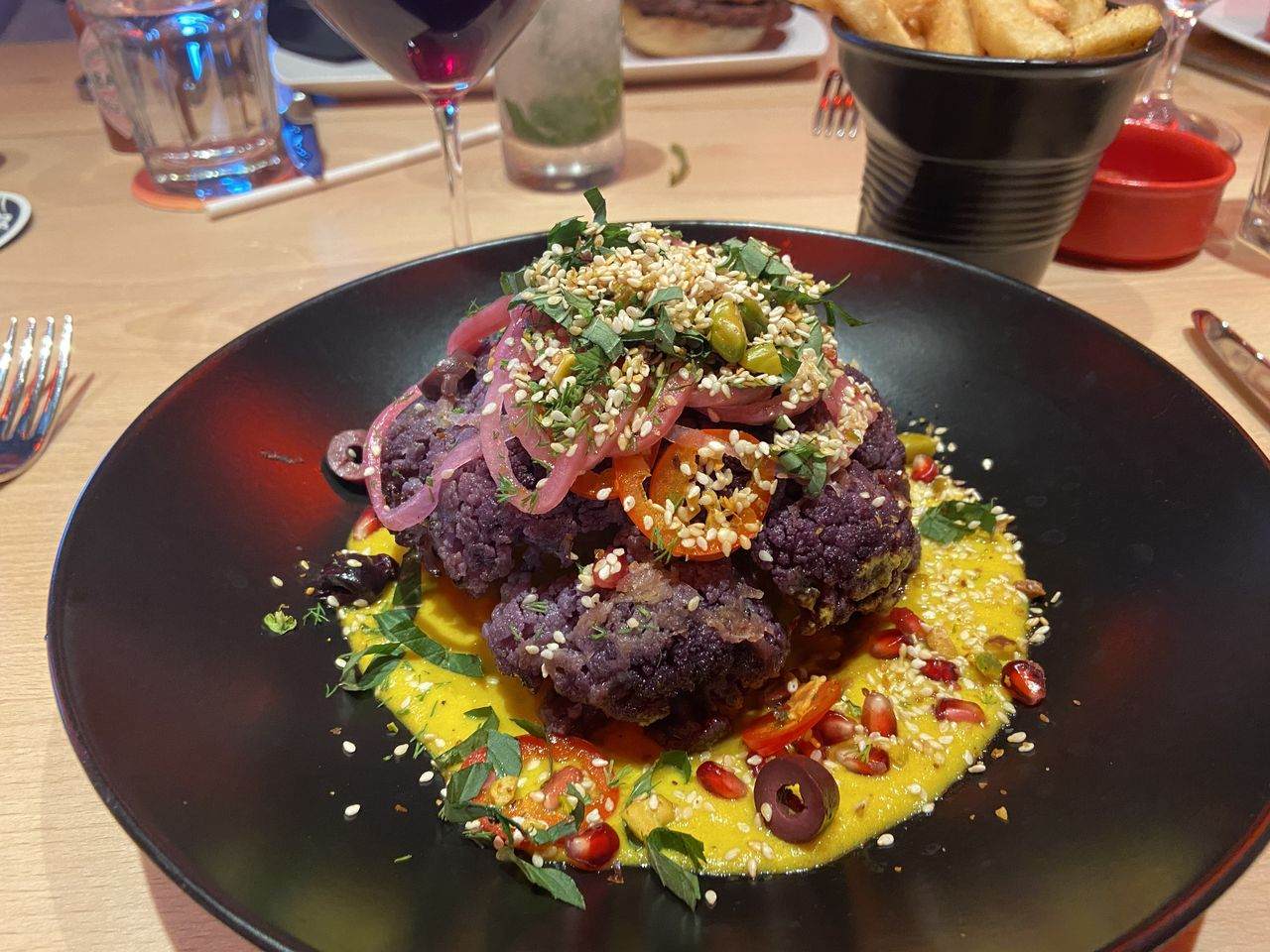 Dinner is in Razzle Dazzle, café stylings in bright colours and angular lines. It's largely vegetarian; who'd have thought a cauliflower with vadouvan curry sauce, pistachios, sesame seeds and pomegranate could be so appealing.
Tonight's show is Never Sleep Alone, a mucky Vaudevillian sex therapist, Dr A, neat bob, big specs, tight skirt, who entices audience members on to the stage to engage in quizzes and sometimes questionable antics, to rock band accompaniment.
Day 4 Ajaccio (Corsica), Pink Agave and Duel Reality
We dock in the heart of Ajaccio, Corsica's capital, walk through the new waterfront market hall, although the olives, fresh garlic, saucisson and cheese don't really work as souvenirs.
The city is where Napoleon was born, and just round the corner is the house where he spent his early years, now a charmingly dark Bonaparte family museum.
A sweet potato and chickpea burger sitting outside the ship's Dock House bar, then – declining the Posture Alignment Workshop – it's off for a seafront walk past a marina to a tiny beach for a quick dip and a doze.
Tonight we tried Pink Agave, a dark, sophisticated restaurant that advertises itself as Mexican but which leans towards smart dishes accompanied by guacamole, chipotle and other sauces, like my seabass.
Just in time to dash out for Duel Reality, possibly the best show, you'll ever see on a cruise ship. A group of gymnasts/circus performers act out the West Side Story love-and-gangs tale with the aid of climbing poles, trapezes, springboards and more, a high-flying, death-defying melee, girls and boys plunging to within inches of the floor before somersaulting away.
Day 5 Cagliari, Sardinia, Champagne happy hour and The Wake
It's eight o'clock and already 24 degrees as we arrive in Cagliari, Sardinia's capital with its hilltop medieval old town, looking more African than the Mediterranean. We take a leisurely walk to the top of the hill and back down again, visiting the Santa Maria cathedral with its ornate marble interior, gazing down on the remains of the Roman amphitheatre and marvelling at the views over Valiant Lady and the plains and mountains of the interior.
Back on board it's all we can do to get ready for the champagne happy hour before dinner in The Wake, with windows over the rear of the ship. Perhaps the classiest and most conventional of all the restaurants, I have a splendid clam chowder followed by a perfect New York strip.
This is also Red Night with guests asked to wear red to party. Not owning any red clothes I fail abysmally in the fashion stakes but still join the crowds around the pool.
There's loud music, a dance show – and then guests join in, dozens of them dancing in the pool's shallow water. I've got my nice trousers on so give that a miss too. Feeling too exhausted for a final Slam session we finish the day with a nightcap at the Dock House.
Day 6 Day at sea, Diva Bingo, an evening stroll in Ibiza
Our only day at sea and we lay back and enjoy it. Relaxed breakfast in the open air at the Galley before time to explore the ship more fully. At the rear, away from the main pool hub, is an overlooked area of sunbeds and sofas while along the deck are a collection of shady gazebos for rent. This is also the sporty area with a caged basketball court, the sort of gym equipment you find in parks – and even table football.
I catch a morning bingo session hosted by the Diva, have a quick break in speciality coffee shop The Grounds then I'm off to the gym, perhaps the biggest and best at sea, glass walls curving around the back of the ship.
By seven, we're back in The Wake as we pull into Ibiza. I take the free shuttle into the heart of Ibiza Town and have a nighttime stroll amid the dozens of lively bars and restaurants, partying visitors spilling out onto the waterfront.
Day 7 Chiringuito Blue Beach, Test Kitchen
It's a day in the Ibiza sun. We take an excursion to the Chiringuito Blue beach club where we settle down on loungers yards from the sea in the resort of Santa Eulalia del Ríu. Lots of splashing in the surf before lunch in the open-air restaurant – a plate of razor clams – before a tree-lined stroll up the Ríu, the only river in the Balaerics.
Dinner in the Test Kitchen, a multi-course tasting menu, a nibble of salmon here, a tiny lamb chop with baby carrot and asparagus standing in aubergine cream there, with wine pairings.
How much
Virgin Voyages (virginvoyages.com) has various Irresistible Med cruises, from £1,657.44 per cabin (£828.72pp), cruise only, including tips and wifi.
Verdict:
The Valiant Lady is a fabulous ship, offering entertainment that's wildly different from any other cruise and a perfect lifestyle for the younger traveller.
---